MicroGISTrack - GPS/GLONASS monitoring system
MicroGISTrack is a software, server-based geoinformation platform for building a satellite surveillance and monitoring system, developed in accordance with international standards.
MicroGISTrack is an effective new generation system that allows for comprehensive control over moving objects using the Internet by receiving information from sensors of satellite terminals (trackers) installed on moving objects into a single database
You can activate the service and replenish the balance with a free amount in our online store.
To use the GPS/GLONASS monitoring service - check out the materials on our website.
Composition of the system
Program part:
Operating system: Linux 64bit
Application Server: Apache Tomcat
Database server: PostgreSQL
Server software: MicroGISTrack
Hardware:
Computer based on Core i5 or higher.
MicroGISTrack server software structure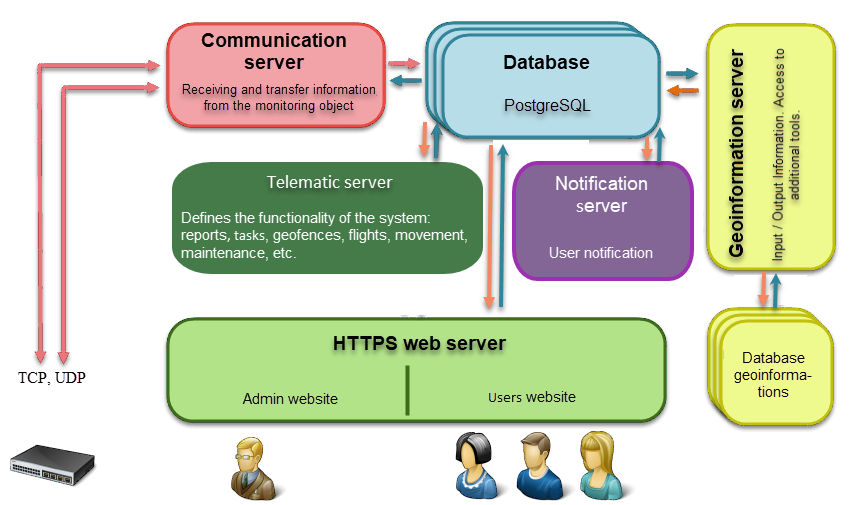 Communication server - designed to receive data from mobile (satellite) terminals (trackers) and send configuration commands back. TCP and UDP protocols are supported;
Database server - designed to collect and store information;
Telematic server - a server that determines the functionality of the system. The server is designed to process user requests. Server functionality is determined automatically depending on the selected set of services by the user;
Web server - designed to use the system through an Internet browser;
Notification server - designed to manage user notifications about events in the system;
Map server - designed to access cartographic information;
How the system works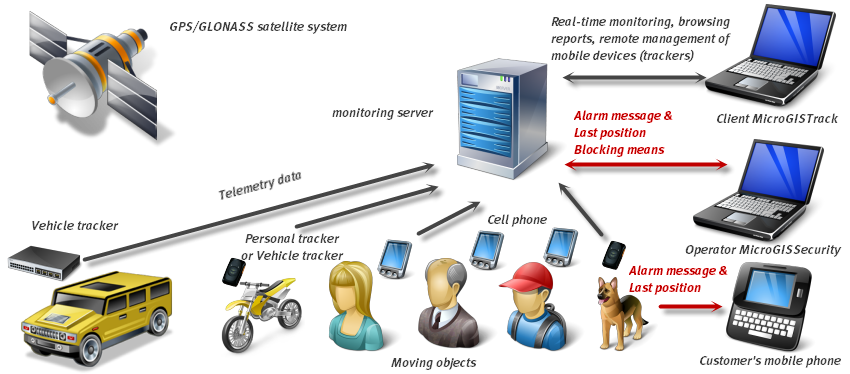 Problems to be solved
Monitoring of moving objects: transport, special. technology, people, animals;
Protection of moving objects;
Logistic functions;


Main Features
Generating a large number of reports:
Event reports;
Reports on the operation of equipment and units (mechanisms);
Reports on the work of drivers;
Reports on system operation;
Reports on visiting geofences;
Reports on movement in geofences;
Report on visiting geocorridors;
Report on movement in geocorridors;
Reports on fuel consumption according to established norms;
Reports on fuel consumption based on data from fuel sensors;
OBD diagnostic reports;
Photo reports;
Group reports;
Final reports;
Informational reports;
Note: The number of reports used may be increased under additional conditions.
The server has the ability to work with a large number of open map services:
Google maps;
Google satellite;
Google landscape;
Open Street Map maps;
Bing maps;
Bing satellite;
WikiMapia maps;
Nokia satellite;
TravelGPS maps;
Note: The number of map services used may be increased under additional conditions.
Different types of measurements are available on the map:
Measuring distances between objects;
Measuring areas;
Measuring lengths;
Planning traffic routes taking into account the rules of the road, type of vehicle, time of day and day of the week;
Service functions:
The ability to view the real area using Google StreetView;
Building custom geofences;
Construction of custom geocorridors;
Export track for the selected period;
Go to Google Earth in one click;
Built-in route player;
Construction of various graphs;
Gallery